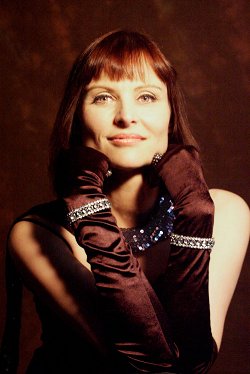 Joan Viskant Biography
Joan was born in Chicago and lived in Paris before settling in London. She received rave reviews for her debut album 'I Hear Music', released on the '33' label, and was described by Woolf Phillips - Frank Sinatra's MD - as 'the best female singer I have heard in 30 years'. Her second big band album 'Sure Thing' was the Observer album of the week, and Michael Parkinson's album of the week. Her third album 'Over Here, Over There' has had frequent airplay since its release.
Joan's latest album, 'Madeleine Rooms', has been featured as album of the week on Jazz FM, with the album track 'Move Towards the Light' included in Jazz FM's compilation 'Dinner Jazz' album.
Joan is one of the rare breed of singers – a musician's musician. 'She's fantastic' says composer Mike Stoller of the famous composing duo Lieber & Stoeller.
Corky Hale (jazz harpist, pianist, and Billy Holiday's accompanist) agrees. Composer Alan Bergman says "I listen to her all the time".
"Viskant caresses a lyric like a reunited lover."
Richard Niles, BBC Radio 2
"Making the big band album with Joan Viskant was one of the highlights of my recording career." John Altman
Fans of Joan Viskant's singing include Jeff Goldblum, Sophie Dahl, Patrick Stewart ('I love her voice'), William Shatner, ('that girl can sing'), Herbie Hancock and Benny Carter.
Joan's own trio and quartet are popular fixtures on the jazz circuit and on radio. She has been very much in demand for film, television, and commercial work- highlights include appearing in 'The Roman Spring of Mrs. Stone', 'Titanic', and preparing the material for Jane Horrocks in 'Little Voice'.
Joan has appeared at a number of international festivals with artists such as Emmy Award winner John Altman and his big band (with whom she collaborated on her acclaimed second album), The Cotton Club Orchestra and the Blue Devils with Keith Nichols, the Giants of Jive and the 'Ella Fitzgerald Songbook Show' with Barbara Jay, Tina May and Lee Gibson. Joan sings regularly with virtuoso American composer/arranger/reed player Jeff Darrohn and his saxophone group SAXON, and has recently been touring the country with Pete Long (Ronnie Scott's Big Band) and his Benny Goodman Big Band.
The RHYTHM KITCHEN brings together Joan Viskant with Pete Long to cook up fresh hot jazz from the 1940's and 1950's. Inspired by the great partnerships of that era (think Prima-Keely, Anita O'Day, Roy Eldrige), Their fast-pace, high-octane show thrills the taste buds of both jazz fans and those out for an evening of fun. A big band sound from a 5-piece, multi-talented cast.
Joan's latest album project includes the talents of Mick Bishop (piano), Mitch Dalton (guitar), Paul Morgan (double bass) and Winston Clifford (drums).